Temporary insanity
I'm kinda goin insane today. Kinda. Definitely more than usually though.
Soooo……it's pretty well-known how much I love me some Usher and Common, right? They're everything a woman can ask for physically. Usher with his milk chocolate tint and Common with the strength to bring the popularity of the light-skinned brothas back? Lawd! Anyway, as luck would have it, Usher is playing at the House of Blues tonight and I'm broke as hell.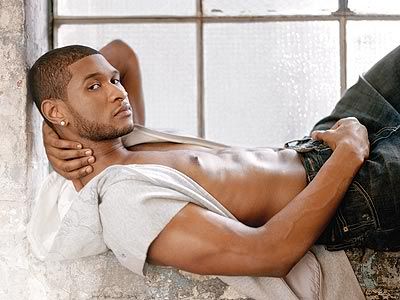 (I swear...I'm in love with a man with a good pork-chop)

(See? Because of him....the light-skinned men have a better shot. Thanks, Common, lol)

It was bad enough that Common had a concert on my birthday weekend and his tickets STARTED at 100 dollars because it was a fund-raiser for his organization. But there was Talib Kweli with him, Floetry, and Bilal (who I saw early this summer but still...)

What the hell?
I've never seen my Usher in concert. And now he's here in Chicago? Not Atlanta? Not Los Angeles? Not even NYC? But HERE? Here, like ten minutes away from my office? Here? In Chicago?
And I have no money? Like broke as hell? Broke like I need a second job? Broke like I can't wait til I get paid tomorrow JUST so I can pay down some of these bills and just HOPE that I can make it through after all the bills are paid?
This can't be life. It just can't be.
You gotta love Facebook. You just gotta love that website. Because of facebook.com, I found out about the concert that my cousin is going to, thought it was at her school and figured that if he was just playing for students at the University of Illinois @ Urbana-Champaign that I could just drop in for the night or something. (The school is only about an hour and a half away). I ended up being informed that he's actually ten minutes away from the office, talked to my cousin who has been encouraging me to put up the eighty-five dollars to go with her.
Eight-five dollars.
I wanna go, y'all.
But I'm broke.
Some would say "it isn't meant to be" but DAMN THAT! I can't remember the last time that Usher was in CHICAGO. I need to see my "man".
I'm going insane. And I'm mad that I'm broke. Damn economy. Being broke does not pay.....
Can anyone help? Hit my inbox...please...